Preserved, PMT, AEC Reliance/Weyman, 805 (805EVT) seem at POPS rally at Wedgwood. On this occasion, the bus was shown in a partialy restores state.
Preserved, PMT, Leyland Atlantean/Weyman, L9766 (766EVT) pictured in Ecclshall.
Popps owned Leyland Titan OPD2, NEH466, seen here at Midland Read North Cannock depot.
POPS, preserved Bristiol VR/ECW, 206 (OEH604M) seen here at Leek bus station.
Preserved, Bristol RELL/ECW, 207 (PVT207L) seen at POPS rally.
Preserved PMT Bristol VR/ECW 709 (GRF709V) at POPS raly.
Preserved, PMT DAF Optare 801 (H801 GRE) seen at POPS raly.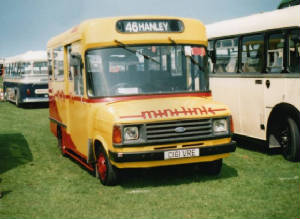 C161VRE
Preserved, PNT Forf Transit minibus 161 (C161VRE) seen here attending Showbus.
CLEMS CORNER
Clem Smith has given me permission to post these phtographs, he would like to remind readers that these photographs must not be copied for resale, linked or credidted by any other person or persons to any other web sites without his permission.